Good Indy racing yesterday.
I love Infineon raceway. It's so open and everything is just right there. It's not like F1 GP circuits where everything is miles away from the fans and you can't get anywhere near the pits. At Infineon, you can get close enough to touch the tire racks and hear the pumps on the fuel machines.
Fun day. Got there while the drivers were busy careening around in Camrys to entertain the sponsors. I saw a lot of contact and general understeer hilarity. Then we went through the tunnels to the stands and watched the pit crews practice tire changes. Some of the drivers were standing around talking to the crews.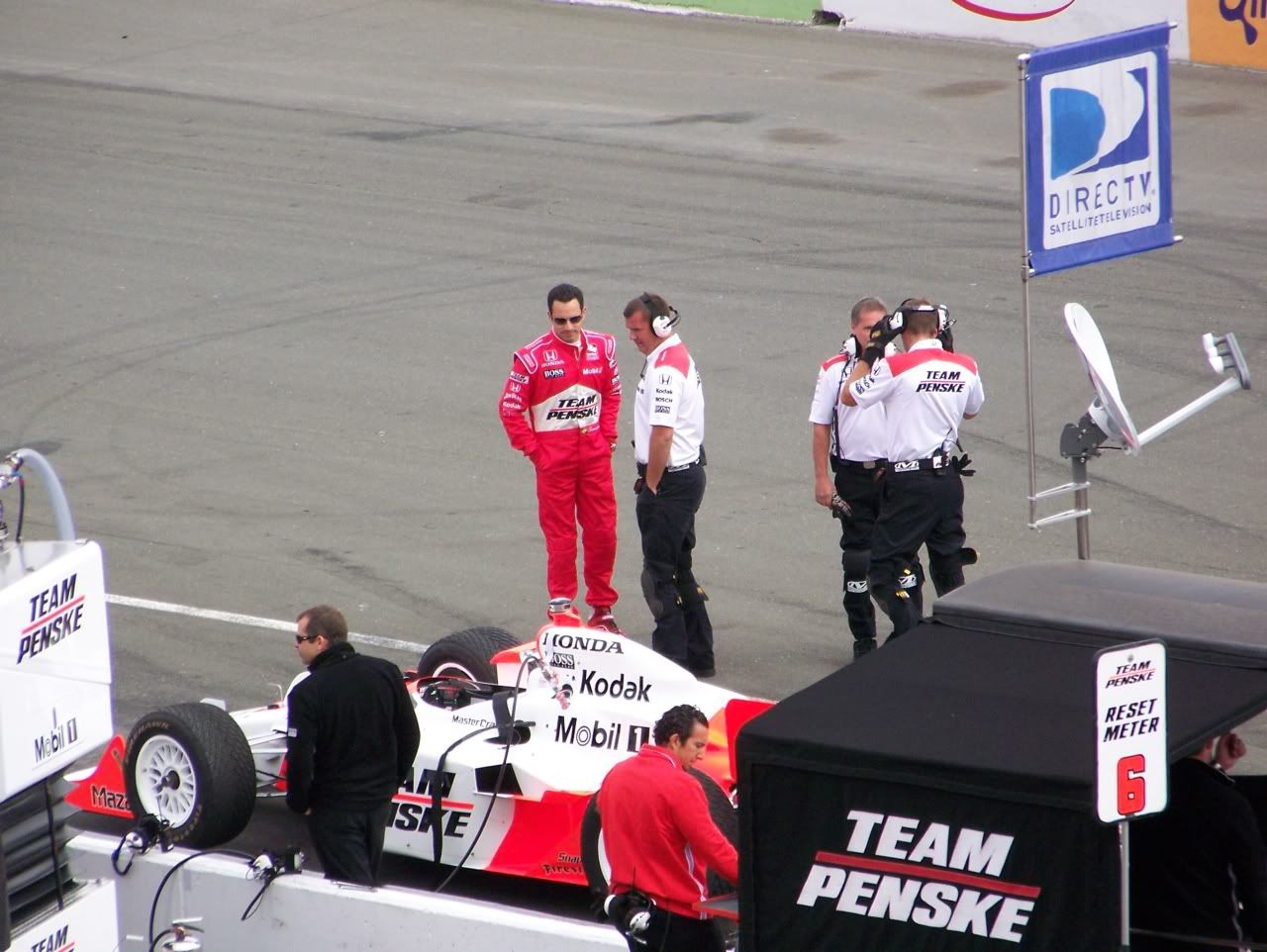 Helio Castroneves is hopping up and down with enthusiasm. No, really, he is, see, look: he's airborne.
I don't think my mom really knew what we were going to see. She was really excited when I started telling her who was going to be there. She loves Helio (from Dancing With the Stars, ugh).
Of course, the two Penskes were on the front row so I was excited too. I like Tony Kanaan as well, since I've heard him call Marco Andretti "stupid" on at least two separate occasions. Not that I think Marco is stupid, but I like when drivers say their minds.
The Andrettis had a special guest, too; George Lucas (of Star Wars creation fame, in case you live in a very deep cave on the moon) showed up to promote his new movie, which features on Marco's car.
And my mom's day was made when she got to ride in the back of a Ridgeline with Helio around the track on a parade lap. Needless to say she was pretty excited.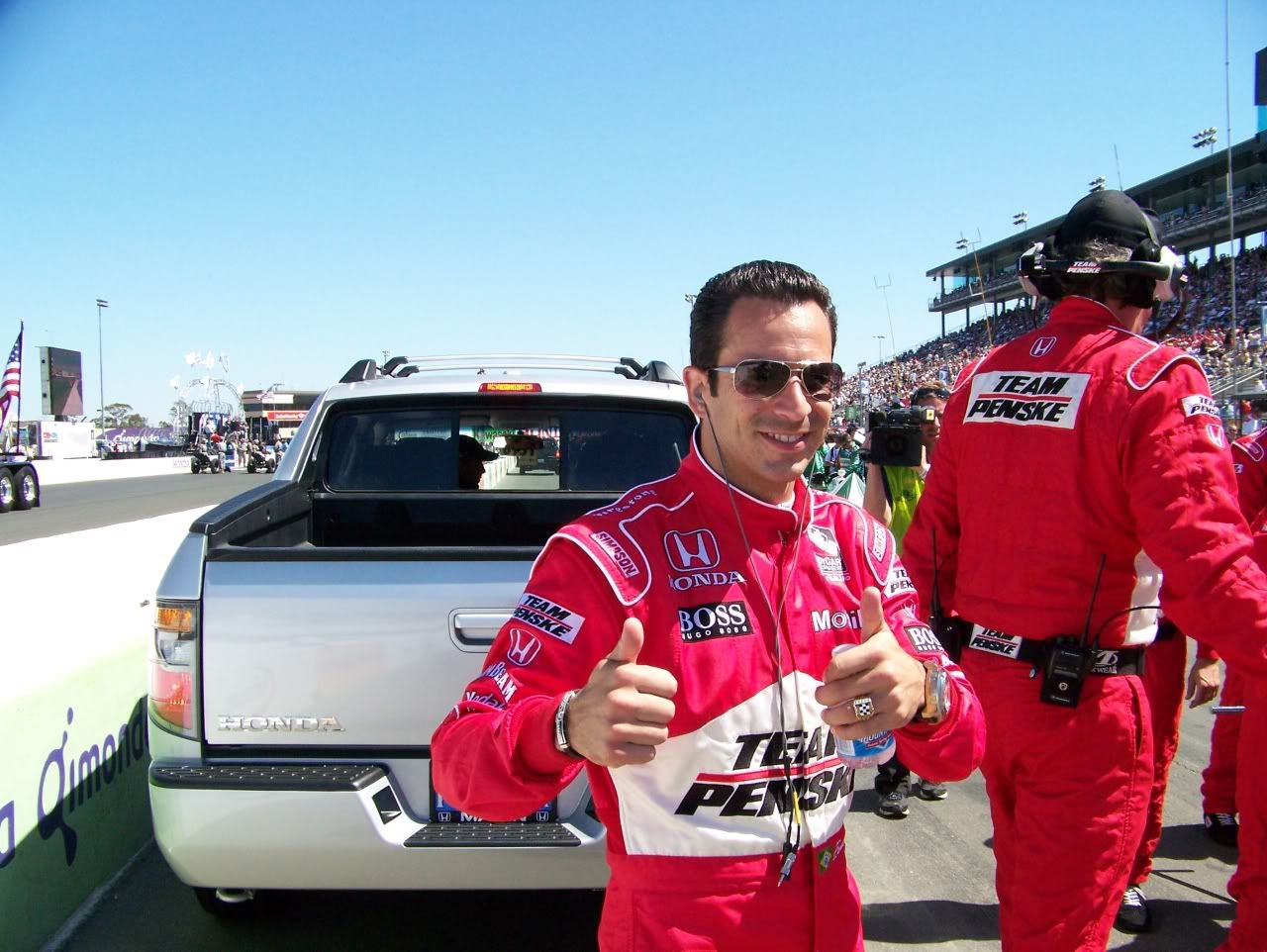 My mom got this picture just at the end of the pits after the parade lap. Helio, as ever, is totally enthused and into it. And look, you're on TV.
The race itself wasn't the most action-packed, I'll admit, but there was still a couple of crashes, a few offs and spins as well. The Penske's took a 1-2 and there was some really nice pit strategy coming from that team.
Some people are saying that the fanbase isn't up, and that the stands were empty, and revenue is down (which it may be), and the racing isn't as good as some others, etc, etc, etc ad infinitum.
Pshaw to that.
People who nitpick about Indy racing need to pull the stick from their bum and stop comparing sophisticated, precise and expensive open-wheel racing to cheap, unsophisticated, and imprecise stock car racing.
When you compare Indy to NASCAR it's like comparing fire and water; they both
completely
exclude each other. You're much better off comparing Indy to Formula and when you do that Indy seems like a Godsend.
If there is really trouble going on within the organization, which there very well may be, all we can do, being racing fans, is watch and go to races and let the IRL handle themselves.
We'll just get in the way.
The end (of that at least).
Anyway. Another cool thing is the Russell school had a little exhibition between the Indy Lights race and the main GP. They took the Formula cars out and did a little race for fun while they talked for a bit about the school. After the GP we went down to the Russell garages to see what was going on and chatted for a bit. I'll show you the garages because I don't think you guys have seen them yet.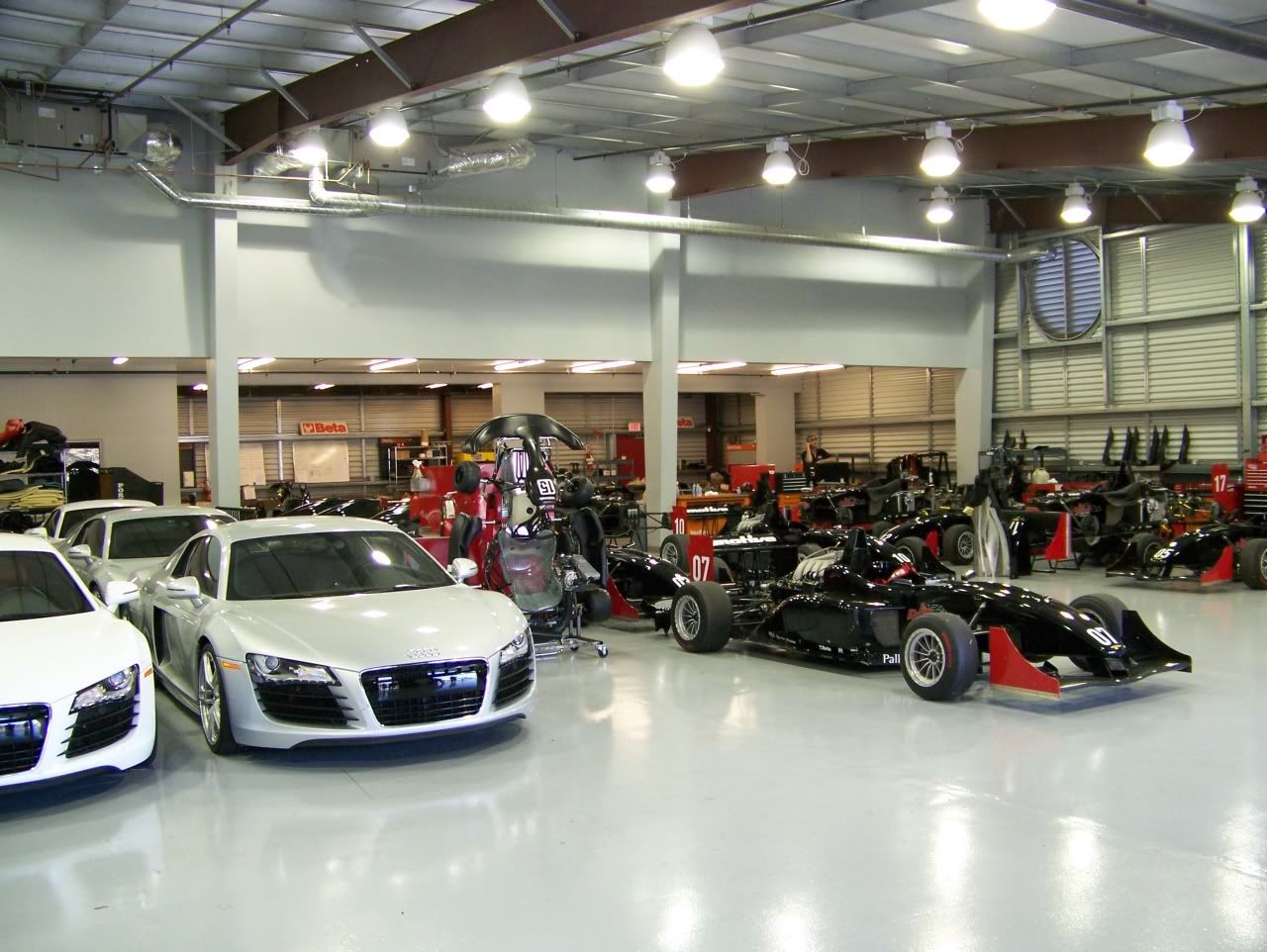 The Russell garages on Turn 1. On the left, Audi R8s from the Audi Experience (sister program to the Russell schools). On the right, the Russell Formula 3 cars which cost about $160,000 and are all carbon fiber. And in the middle on the stand, a kart from the school "upstairs".



Earlier I said how much I like Infineon raceway. And I really do love it. And getting tons of people and having these big events is cool. But when I really most enjoy the racetrack is on the weekdays, when only one lane of the main gate is open and there are only 2 or 3 cars going around the track, and other than a few odd staff the place is deserted. That's when the place really comes alive and seems to have it's own personality. That's when the real magic happens.

And that's what I really love about it.